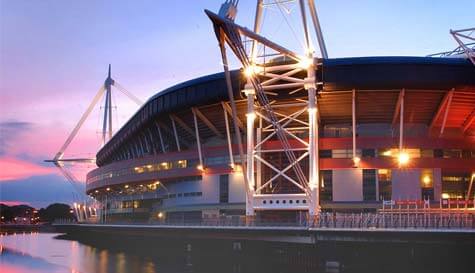 Sporting stags in Cardiff know that there's one venue that stands above the rest as a Mecca for stag parties looking to pay tribute to some of the greatest athletes in Wales. We're talking, of course, about the incredible Millennium Stadium; home of the Welsh National Rugby Team, occasional playing ground of the Welsh National Football Team, and the national stadium of Wales.

With space for 74,500 spectators and one of the largest fully retractable roofs in the world, the Millennium Stadium is a feat of architectural engineering... but even more impressive are the events and people it's hosted; not just the rugby and football but also motorsports events, and Stereophonics, Bon Jovi, Madonna, U2, R.E.M, Paul McCartney, and Rhianna have all played there.

If your stag is a fan of Welsh football or rugby, you can't afford to leave this one off the stag weekend. He won't just get to see some of the areas tied up with his best sporting memories, he'll also have a chance to step on to the pitch himself for a glimpse at what it's like to play there!

You'll access areas of the stadium not normally seen by the public, visiting the Press Conference Suite, the Dragon's Lair (Wales' team dressing room), the players' tunnel, the VIP hospitality suite, and the President's Box. So get the boys together for some rugby mad stag sightseeing!