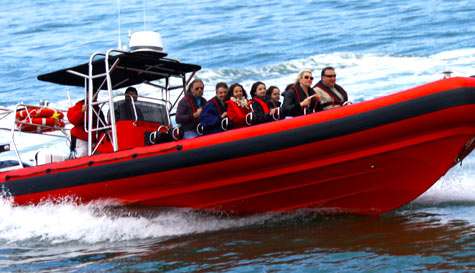 Experience the ultimate in high-speed waterborne mayhem with our Cardiff stag party white water ribbing. Operating highly sophisticated, rigid inflatable boats, our team will introduce you to an unprecedented experience of sightseeing and open water powerboating with a view of Cardiff at fantastically high speeds.

If James Bond ever comes to Cardiff this is undoubtedly the way he'd travel. White water ribbing is fast, thrilling and undoubtedly cool. It's also a fine way to test the lads resolve, stomachs and hangovers the day after a big night out.

Yep, hold onto your breakfasts boys, this isn't the type of pleasure jaunt you'd take your Great Aunt Ethel on, this is high-speed, white-knuckle, thrills all the way. If any of the stags have a huge fear of water this really isn't for them and quite frankly we make no apologies for that. The ride is a matter of power and an unparalleled view of Cardiff but it takes no prisoners.

The 12 seater RIB's are unbelievably fast, powered by the latest generation of marine engines, with 450hp and can operate in virtually any weather. In fact, it's far more fun when things are a little bit choppy. They are regularly inspected by the maritime authorities and do carry the most up to date safety equipment available. What they don't do is share the blushes of unsuspecting stags who turn out to be not quite as sea hardened as they thought. There's no two ways about it, this is full-on action that really will separate the stags from the boys.