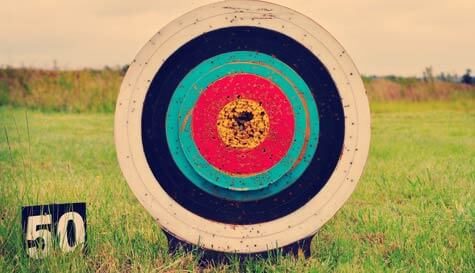 Depending just how 'merry' the men are, a sporting stag competition that involves handing them potentially lethal medieval weaponry might not seem like a great idea. However, archery is really simple for most lads to pick up and a great way to get some rivalry going. And while we might just, it's worth knowing that an arrow from a fully drawn English longbow was capable of piercing armour.
You'll be given an all-important safety briefing (we don't want the groom to have to go home and explain a new piercing to the bride-to-be) and some basic instruction on holding the bow, placing your feet, aiming, correct way to hold the string and arrow, etc. After a few practise sessions you'll then get your game faces on and let fly. You can opt to shoot individually or put yourselves in teams.
Archery QI
The practice of archery was a legal requirement for Englishmen during the medieval ages to help defend us from invaders.
Henry the VIII banned football as men were playing football rather than practising with their bows.
He was also the first man ever to own a pair of purpose-built football boots. Slightly hypocritical perhaps?
The archery practise field was known as "the butts" (a target was called a 'butt'). You'll see evidence of this in most towns and cities with streets still named "The Butts".
Big screen Robin Hoods include; Sean Connery, Russell Crowe, Kevin Costner.
Big screen Robin Hoods with bad/non-existent English accents include; Sean Connery, Russell Crowe, Kevin Costner.