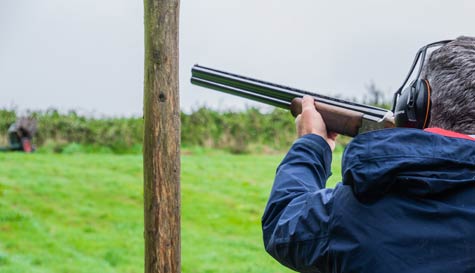 Yes, clay pigeon shooting is indeed a stag classic, and if you think of clay pigeon shooting as men in tweed jackets, smoking pipes then sadly Sir you couldn't be more wrong.

All lads love a challenge, invariably stag groups want sport, they want competition, winners, losers, camaraderie and derision and guns. Bloody big ones. Well, clay pigeon shooting is all of the above and more. It takes a skilful eye and deft touch to be a real sharpshooter, the clays travel at high speeds giving you milliseconds to find, track, lead, squeeze the trigger and then hope to see the puff of dust and sound of breaking clay as the 12 bore shotgun hammers back into your shoulder, you've then got to swivel to the next already moving target, repeat the whole process before the second clay drifts out of sight. Two barrels, two clays, split-second decisions as the rest of the lads do their best to put you off between pairs.

The surprising thing about clay pigeon shooting isn't that you'll want to wear tweed, it's just how addictive and competitive it becomes very quickly. In a short space of time, you'll go from complete novice, nervous of his first shot as the lads all look on, to crack shot desperate to hit the next stand in order to increase your lead.

This Cheltenham course is top-notch, with a 100 target sporting layout with rabbit clays and high towers aimed to test you to the limit. Plus the expert instructors will get you all shooting straight teach you the basics of how to find the target. It's hard not to get super stag-competitive with this sport... so come on lads, get ready to lock and load!