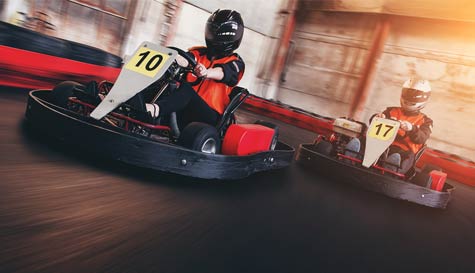 No stag party is complete without a little competitive stag action and this is full throttle stag racing of the highest order.

The superb 300 metre track features extra-wide tracks for maximum overtaking, chicanes, hairpin bends, three high-speed banking corners and a group of your slightly hungover mates all going wheel to wheel to prove they are the stag party Stig. All this while sat in 160cc Honda 4 stoke karts which can hit speeds in excess of 40mph. That might not sound like much in a modern car but when your gentlemen's jewels are just a few inches above the tarmac 40mph suddenly becomes very fast indeed.

After getting suited and booted, ready to race, you'll head onto the track for some practise laps. Once you're warmed up and the marshals are sure your Cheltenham stag weekend go kart champions won't start heading around the track the wrong way, you'll line up under the starter's lights for the qualifying heats, which are 25 laps of hard-fought racing. Each driver will face two qualifying heats before the best of your group go on to the 20 lap final. The winners stepping up for a podium presentation while the losers should be dispatched to the nearest watering hole in order to get the first round in to either pay their penalty pints or drown their sorrows.

Not only is our Cheltenham stag party go karts brilliant fun but it's a great way to finally put to rest all those arguments over who is the best driver and who would even hold up a Sunday driver, towing a caravan while listening to The Archers on Radio 4.