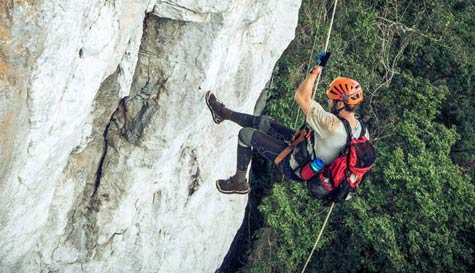 Mother nature has a lot to answer for, creating birds that regularly pebble dash our cars, snakes (like Iniana Jones, at StagWeb HQ we're not fans) and washing out most of our summers. Well now's your chance to get out into her back garden show her what for! At this stunning site in the heart of the Forest of Dean and the Wye Valley, you have a choice of a number of awesome activities in the great outdoors over some really tough terrain. Whether you choose a single or combo activity package, you and the lads will have a totally awesome experience doing battle with the elements as tackle
orienteering, abseiling, mountain biking, rock climbing
and
open canoeing
.
Whether you have serious outdoorsmen in your group or are all confirmed city dwellers who don't know your oars from your elbow you're in for a big day out.
If you and the guys really want something a bit off the beaten track then this is tough to beat. There won't be a traffic jam or parking warden insight as you get back to nature and make the most of a day with the boys. There'll be plenty of room for a bit of healthy competition and you can set your own forfeits and prizes along the way. If you can squeeze it in we really recommend you take the full day combo option as once you get out there time will race by far too quickly and leave you hungry for more adventure.
You can mix and match the day to suit you and your group for a completely tailor made weekend. Of course we're fans of all our activities but this one really is something special, the setting, the activities on offer the lay of the land you'll be facing all come together to help form the basis of a great day out for all the lads.
Pick one of these as a single, half-day activity:
Orienteering
Mountain biking
Abseiling
Or better still you can double up with one of these full-day combos:
Mountain biking and open canoeing
Open canoeing and rock climbing
Open canoeing and abseiling
Rock climbing and mountain biking
Abseiling and mountain biking
Orienteering and mountain biking/open canoeing/rock climbing/abseiling.