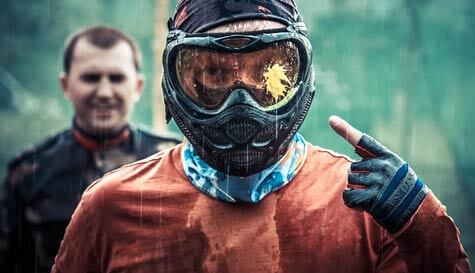 Paintballing is still a top choice for stag party entertainment and with good reason. IT'S EPIC! Where else do you get to run around like 9 yr olds exposed to too many E numbers, be given guns and legally be allowed to sneak up on your best mates to shoot them in the gentlemen vegetables at near point range?
(However we would advise against doing so, not only is it potentially dangerous but it really bloody hurts!)

Our Cheltenham stag party paintball site is the perfect place for you to set up your very own stag weekend Call of Duty. This is a chance for the guys to step away from their game consoles and see how they cope when the paint really starts flying. Each of the stags will be kitted out with full camouflage overalls, padded head guards, full face goggles and the latest state-of-the-art, semi-automatic paintball guns as well as 100 rounds of ammo to let battle commence.

Not only is this a great opportunity to kick ass without the actual need for leather on butt contact, it's the perfect opportunity to play a prank on the groom. How about taking along a hi-viz jacket and trousers or bright pink onesie to make sure he can be seen at all time to "keep him safe" (and not merely so he gets a face full of emulsion every time he so much as farts)? Or you can arrange for him to run a gauntlet of trigger happy stags as you give him a full Dulux makeover.

Half day or full day sessions with hot lunch available.