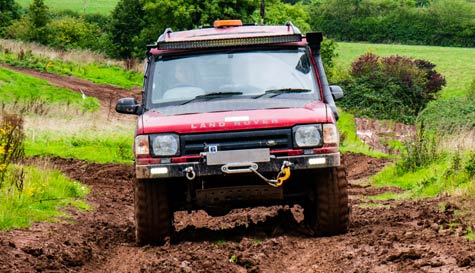 While footballers wives and Cheshire yummy mummies might choose to do the school run in a Chester Tractor, at StagWeb we appreciate the real beauty of these mechanical beasts and it certainly isn't for playing Adele CDs. Prepare to get axle-deep in the brown stuff on a serious test of your stag driving skills. You and the lads will face a series of tests on an off-road course that doesn't take any prisoners in suped-up 4x4 off-roaders.

The instructors will start you off nice and easy and make sure you master the basics before ramping up the challenges and required skill factor. Of course the whole time you'll have your own party of backseat drivers as the rest of the lads can exchange plenty of banter and let each other know exactly what they think of each driver's efforts. Plus there's the added thrill that you might get to witness one of your mates park it in a tree.

No good stag party is complete without a little competitive element so the instructors will be marking each of you for your level of skill behind the will. Most importantly please try to keep the vehicles shiny side up.