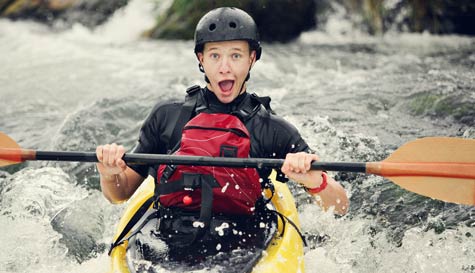 Are you looking to take the lads on some wet and wild mayhem on your big weekend? Kayaking is the perfect way to get all the boys thoroughly soaked in a white knuckle activity that's sure to thrill everybody. It's sure to knock any hangovers straight out of you as you smoothly kayak (or at least that's the plan) down a purpose-built course involving natural and man-made obstacles.

This epic course will test all your skill with a paddle as you negotiate this tricky course while turning up a healthy amount of water in the direction of the stag behind you, obviously.

You'll be led by our experienced instructors who will always be on hand, so whether you're a kayaking pro or a complete newbie, the competition will always be on a level playing field. And there will be competition; you'll get stuck into some entertaining games in the water that are sure to result in someone getting a face full of river water.

If all of that doesn't sound enough for you, our Chester course is one of the very best in the UK. This course features incredible grade 2 and 3 rapids with some seriously white-knuckle twists and turns. Kayaking is one of the best activities around if you're looking for some exhilarating water action. It's ideal when paired with one of our other extreme activities, such as white water rafting and gorge walking, which are also available in Chester!