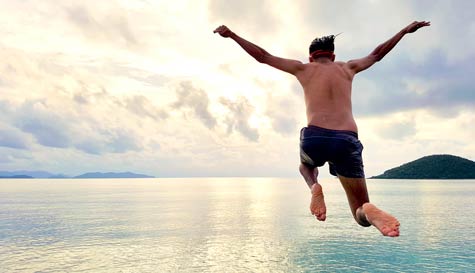 Our stag party cliff jumping activity does exactly what it says on the tin - While lesser stags will stick to dry land, you and your best mates could be going all out for adventure, climbing up some chuffin' big cliffs... and then, you guessed it, jump straight back off them!

It's man madness like cliff jumping that stag parties were invented for, launching yourselves off cliffs into pools, rivers and the freezing seawater below. After all, this is a stag do, not a knitting weekend, so you can push yourselves to the limits and feel like giants. You'll also get some amazing stag team photos (and we're not just talking about the guys in their wetsuits), you can talk to our friendly instructors about the best places to stand to capture the guys in mid-air. Just make sure your camera or GoPro is waterproof as you will be getting wet.

We would just ask all groups to think before booking as this cliff jumping is spectacular but not for all stags (in a "tough guys only need apply" way). You will need to scale rocks, while it's not Everest it's still a physically demanding challenge.

So, if you're after an epic adventure that the guys will be talking about for weeks, take the plunge and book up this cliff jumping activity today!