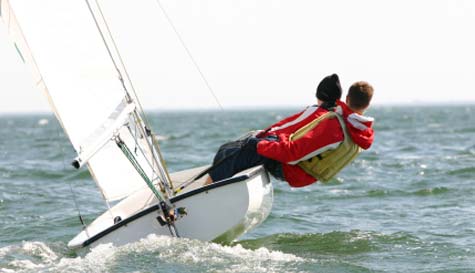 "Dinghy" conjures up visions of leisurely pleasure craft... but don't be fooled, dinghies can be fast, furious, vessels that cut through the water when handled with skill. In our stag party dinghy sailing activity, you and the boys will go from probably being complete sea-faring newbies to water sport experts; it's awesome, white-knuckle fun for any stag party that's sure to challenge everybody to the max.

Your boats could include wayfarers, which are large, 16ft, two or three-handed dinghies. So not the sort that you can blow up in half an hour with a foot pump. You might find yourself on the deck of high-class models such as the Iso, Laser 300, 420, topper, Pico, Laser and the Optimist which are all sure to give you and the lads an awesome, exciting and challenging day of sailing. Depending on your group size you'll either sail in pairs or sail single-handed.

Experienced tutors will teach you all to control and steer the boats, which involves managing the sails, the foils, the trim of the boat and the side-to-side movement of the dinghy which is largely controlled by the movement of your stag-crew! This means one thing; teamwork. You'll all need to work together in your boats to get the most out of your water-slicing dinghy before a big race event to end the day's sailing. And it gets even better as this is such a stunning place to race boats. Not only is the Brighton coast a great place to hang out, it's also packed with great looking single hens for the guys to try and impress.

You'll crown your stag dinghy racing champions, as well as finding out which stags should stick to rubber dinghies. This is awesome, energetic fun that'll see you take on the water and the rest of the guys to prove who should be the king of the weekend. There's also the added bonus that one of the guys (please let it be the groom, please let it be the groom…) will take an early bath with a dip in the English channel.