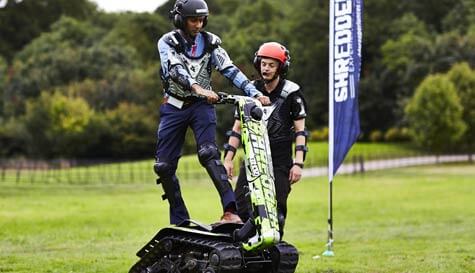 Wheels? That's what boring people drive on. Nope, dull old vehicles that rely on spherical propulsion are a thing of the past.
We've seen the future and the future is shredders!
Our shredder stag weekend activity will take you and the guys off-road and put you behind the controls of one of these awesome machines on an adrenalin pumping, extreme riding experience like nothing else! Designed to chew up and spit out the toughest of terrain you and the guys will be going head to head in some superb driving challenges and games.
What is a shredder?
Shredders are all-terrain vehicles that run on tracks rather than wheels while the driver stands and steers using a handlebar, similar to operating a jet-ski. In fact, imagine if a tank and a jet-ski were to have a lovechild... That's probably how shredders are born, they are equally as devastating but twice as much fun.
Your shredder stag party challenge will begin with a quick safety briefing ("don't fall off, try not to run over the groom") before you mount up and take your new rides for a test drive. Once everyone has got the hang of things the fun and games really begin. You'll then take on a series of challenges and tests plus some driving games to find out who are the best and worst drivers. Naturally, you can set your own prizes and forfeits for the winners and losers. And we definitely think you should.