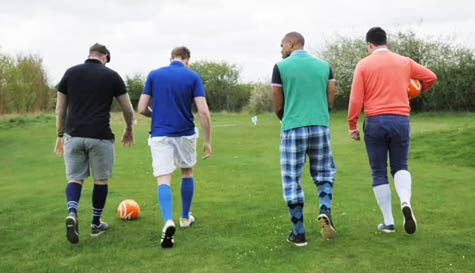 Our footgolf activity is one of our top picks for a superb Dublin stag do with all the ingredients for a brilliant event; Football, golf, beer, sporting competition, a fried breakfast, game of pool and transport, it really is the stag activity that just keeps on giving.
True sporting stags can turn this into a mini-tournament (we suggest a trophy for the winner and stag forfeit for the loser). If you've never seen footgolf before the premise is pretty simple;
Footgolf is a combination of two of the greatest sports ever invented. Much like regular golf, it's a full-sized, 18 hole course with tees, fairways and greens. The difference is that instead of clubs and Titleists, you'll be kicking footballs at over-sized holes.
This is great sporting action, a test of your delicate touch, ability to land the ball in exactly the right spot with Beckham like precision. It's also fuel for plenty of sporting banter/p*** taking between the lads.
But we don't want them wasting away so you can also have a full Irish fry up either before or after the game. A pint of your choice each plus a game of pool. A driver will be on hand to take you and the guys to and from the event.