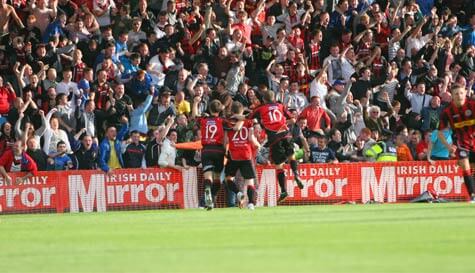 Bohemians are a top League of Irish side who have never been relegated from the Irish Premier Division in 125+ years and the oldest League of Ireland club in continuous existence. What's more the club are owned by the fans. Take that Abramovich!

You'll make your way to Dalymount Park, one of Ireland's most prestigious sporting areas that hosted the Republic of Ireland's international matches until 1991 and has the feel of a traditional football ground (you won't find Keane's prawn sarnie brigade sitting silent in the stands here). Support is loud, loyal and often really humorous and retains the charm of traditional football fans, before the big money moved into the game and the executive boxes turned grounds into a shadow of their former glory.

There are three bars onsite to make sure the guys are all well refreshed pre-match or to grab a quick half time pint. They're still open after the game if you want to mix with the local fans who unlike some other leagues are a friendly and welcoming bunch to celebrate or drown sorrows with.

The tickets will be pre-paid and waiting for you along with a few drinks tokens to wet the stags whistles ready to join in with the atmosphere.

This isn't a league obsessed with chasing Champions League glory or filled with over-paid, journeymen players, this is roots football where far more players tend to be "one club men", tackles are full bloodied and players are far more likely to get up and run it off than roll around waiting for their Oscar nomination. It's the beautiful game that while not always quite so beautiful, is honest, full blooded and heart felt, played by many more local players who live for their clubs. And what's more you won't be sitting in Row Z wishing you'd brought a pair of binoculars.