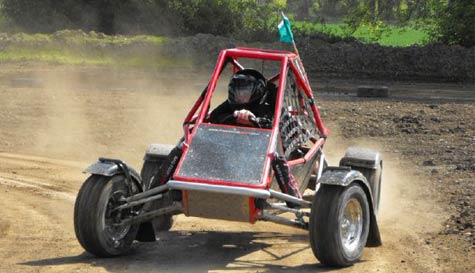 There's no doubt about it, rage buggies are the Tasmanian Devils of the racing world and just about the angriest beasts on four wheels. They'll literally chew up and spit out any terrain you point them at and they don't exactly do it delicately.

You and the lads can expect a fast, bumpy all action ride when you take to the hotseat of these 620cc Honda V-twin engine machines that are capable of 60mph. Kitted out with full FIA approved racing gear including a 5 point safety harness, racing seats and roll cage. Although we'd respectfully recommend you don't put the cages to the test, it'll play havoc with your hangover.

The track gives you 1.5km of rough racing surface with epic downhills, natural jumps, hairpins and zigzags, to fly and slide round. For a truly fast round you might need to go sideways and feel a little air beneath the tyres to make sure you shave every possible second off your time. But just for added fun, the rest of the stags will be watching your every move and will no doubt let you know exactly what they think of your driving when you join them.

The competitive fun takes the shape of a time trial with each stag racing against the clock. The stag who posts the quickest time will be declared the winner. We'll let you set your own Stag Do Forfeit for the slowest stag.

This really is brown trouser driving where every second counts that will push the lads to the max. He who dares...