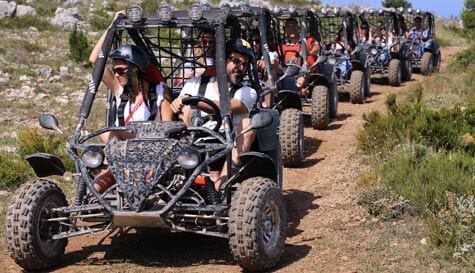 Buggies are quite simply one of the coolest forms of transport known to stag-kind! They look cool, they sound amazing, they're brilliant to drive and they're bloody fast! When you add to all that the open air, stunning scenery and a group of top mates our Dubrovnik stag party buggy safari is a top day out.
Cruising with good mates in any car is fun, but along the stunning Dubrovnik coast in open top buggies really does take it to the next level. The sun, the sand and the amazing views will make this the kind of experience you simply cannot find back home in Blighty. It's the perfect way to give the guys something really special to create some great stag party memories. And who doesn't want to go off road in a high powered buggy? (if you've just raised your hand, please hand in your man card on the way out).
We'll arrange for you to be picked up at your accommodation and taken to the start of the safaris where you'll meet your guides. Its then time to get into some headgear (you know you'll make it look cool) and take to the roads. You'll be heading out into the wilderness outside the old city. The safaris last around one hour and thirty minutes, after that there is time to check out the Imperial Fortress or War Museum of a country that is steeped in history.