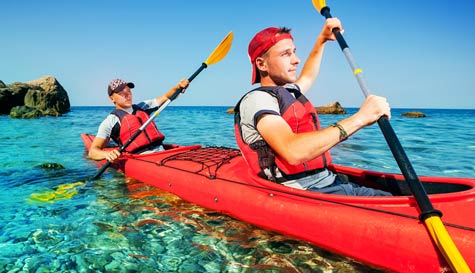 While lesser stags are back in Blighty, trying to make a game of pitch and putt seem more exciting, you and the guys could be living out some real adventure on this amazing day of adrenaline-pumping action.
You'll begin by meeting your instructor, puffing out your chests and getting a look at the stunning coastline. The whole area was used as Blackwater Bay in Game of Thrones which is an added bonus for fans of the show. The location is fantastic, with great views, plus with the great weather and the sun reflecting on the water, it's a top way to work on your wedding tans (spoiler alert, make sure you've got plenty of sun cream as it gets hot!).
You'll start with kayaking, your instructor will teach you the basics and fit you up with life vests and aqua shoes (you'll also get dry bags to store your clothes, wallets, etc) and then you'll take to the water… well, like... erm… stags to water?
Next stop is cliff jumping, the views up here are amazing and this is one occasion when you really should look down. At the shimmering crystal-clear water below. When the instructor gives you the all-clear you'll take it in turns to make the leap of faith into the inviting water. Here you'll find incredible hidden caves where you'll don the snorkels and get to explore the incredibly clear underwater world. Time to unleash the groom/Little Mermaid jokes.
It's then back in the kayaks to make the return trip, by now, of course, you'll be dab hands and can even let rip with a few races if you're feeling competitive.