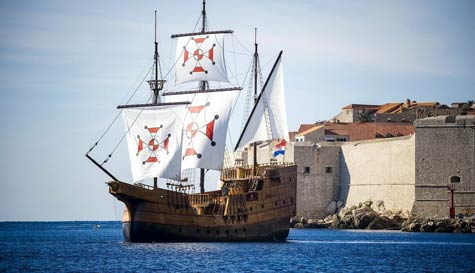 If the groom is a fan of the hit HBO show, Game of Thrones, then this fantastic cruise and walking tour is an absolute must. The groom and all the guys will be able to get up close and personal with amazing locations and hear behind the scenes tales from the show.
The action begins aboard the ship Daenerys Targaryen sailed on, setting sail from Kings Landing you'll sail out into Blackwater Bay as seen in the show. While aboard you'll each be given a Dragon Blood cocktail and see Kings Landing from the sea (maybe plan your attack so you can take the throne?).
Eventually, you'll head back to dry land where a friendly tour guide will take you into King's Landing (Dubrovnik Old Town) where you'll see many sights you'll recognise from the show. The guide will give you insights into the real town, how the show was filmed there, as well as interesting facts about the show and Westeros' noble families.
Then it's the big hitter, you'll see the Iron Throne itself (a perfect replica). You'll even get to sit on it which is perhaps the most peaceful way to assume power ever. It's a great spot that will make totally amazing stag weekend photos of the groom with all his stags standing guard. Perhaps it really is time to make that bid for power?
Explore hidden alleys, hear the show's secrets and get the coolest photos in this incredible setting, die-hard fans of the show or even just casual fans (you know, the ones who just loved the bloodshed and cheered for Tyrion Lannister) who'll still get a major thrill out of seeing locations they'll recognise so well. From Cersei's walk of shame to moments of extreme conflict and treachery. Because when you play the game of thrones…