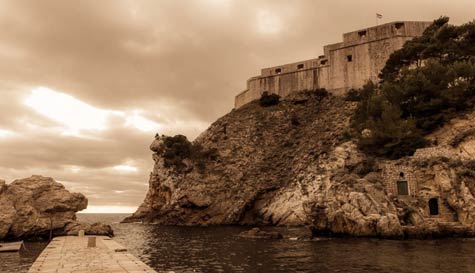 Game of Thrones fans will absolutely love this fantastic tour where you'll get to see the real locations used in the filming of Kings Landing. Thankfully it's a good day, there's no Hound, to bump into, no High Sparrow to shame you, not even an imp to get drunk with.
But it's an amazing tour lead by a licensed guide who was one of the extras used during filming. As well as getting first hand, insider knowledge you'll get to see real props and be able to take amazing photos of you and guys in the real locations including:
Red Keep (Fort Lovrjenac) - Used in scenes for Joffrey's Nameday Tournament, Purple Wedding, Tyrion slapping Joffrey, the Hound saving Sansa and more...
King's Landing Docks - Where Myrcella was sent away and came back from Dorne, Sir Robert Baratheon's bastard was killed and Sansa considered eloping with Littlefinger.
Gates of King's Landing - Used when Jamie Lannister and other figures have entered the city, where the rebellion against Joffrey took place.
Littlefinger's Brothel - Oberyn, Tyrion and High Septon have all visited. With views of the House of Undying.
Sept Baelor - "Shame!"
Spice King of Qarth Palace - Where Daenerys had to plead for a fleet of ships and many characters have sailed across the Narrow Sea.
Walk of Shame - Follow Cersei's naked footsteps as she was forced to re-enter the Red Keep.
Duel Arena (Revelin Fortress) - Where the Mountain fell.
Relive some of your favourite moments and discover the real Westeros. And remember, in the words of Tyrion Lannister, "It's not easy being drunk all the time. Everyone would do it if it were easy." 'Nuff said.