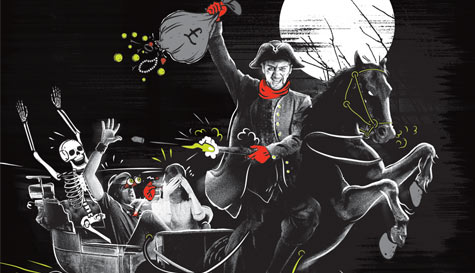 When it comes down to it, whether he likes it or not, one of the main events of any stag weekend is making sure the blushing bridegroom gets stitched up by all those mates he was daft enough to invite on his big weekend. And let's face it, he should have known better than leaving you in charge of putting it all together, so now he's got no one to blame but himself for what happens next.
Imagine going to a comedy night... that was being held in a dungeon... it's all based around audience participation, essentially pulling people from the audience and torturing them both comedically and physically..? Now picture putting the groom in the middle of all that while you and the rest of the stags stand back and enjoy the show... It's EPIC! This really is one of the best activities in Edinburgh for having a few laughs.
There are also two brilliant rides from the company behind Alton Towers.
During the tour you'll meet some of the following characters and more:
The Judge - Once he knows of the groom's crimes he's bound to set an appropriate punishment.
The Torturer - He does exactly what it says on the tin.
The Surgeon - Slicing and dicing, he's unlocking the mystery of Edinburgh's morgue. But that bladder he's pulling out looks worryingly full...
Burke and Hare - Edinburgh's most infamous sons would literally kill to have a body like the groom's.
Maggie Dickson - Find out just why grisly Maggie has been 'hanging around' to greet you.
And more...
This is a tour with the groom's discomfort in mind, plus you'll definitely be on for some dead good laughs.