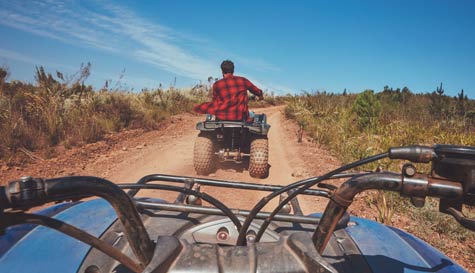 Every good stag do needs a few basic components; beer, stag competition and a chance to see the groom do something spectacularly bad, which can instantly be uploaded to YouTube faster than he can say "I hope nobody caught that on... oh crap!"

Let's cut to the chase here and save some stags a little time. This is definitely not quad biking for everyone. Our Edinburgh stag party quad bike course takes no prisoners and is a full-on challenge for guys who want to really push themselves.

You'll be riding 125 Yamaha Grizzly quad bikes on this full throttle quad bike safari. Initially, the instructors will lead you out at a relatively sedate pace as everyone gets accustomed to the awesome raw power of the quads, this will also give the instructors time to assess your group's joint riding ability so they can set your course accordingly. The site you'll be riding on is stunning Scottish woodland with all manner of natural obstacles with over 20 different tracks to choose from and everything from rutted tracks and jumps to water pools and deep mud. You can expect to get messy.

You will get chances to really open these bad boys up and build up some speed, however, to begin with, the instructors will be on hand to ensure you keep the quads shiny side up at all times. Once ready you'll really get to feel the Scottish air on your faces as you zoom through the countryside like four-wheeled Hells Angels minus the leather and denim. This is the perfect activity for your Edinburgh stag do to build up a thirst for a big night ahead.