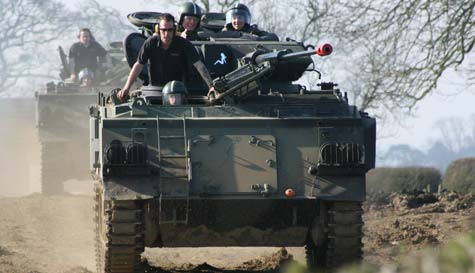 Think you're a bit slick behind the wheel? Well, it's all well and good being able to drive your own car into a tight parking spot, puling the odd j-turn or a nice flat track day, but how will you cope when you come up against our heavy metal tank driving experience on your Edinburgh stag do?

This is a full-on driving challenge as you get behind the controls of 15 tonnes of driving leviathan. The challenge is to negotiate these metal monsters through an obstacle course with needing to be rescued (having to relinquish the controls while someone gets a stag out of a hole isn't just a bit "embarrassing" but something the rest of the stags will be reminding him about for a very long time to come).

This is one activity that really separates the stags from the boys as the tanks are all ex-military and have all seen active service - just check out the bullet holes! Explore the crew and commanders compartments and feel the awesome power the huge engines contain (that's before you even start to consider the firepower!).

Once you're all geared up in army kit you'll start off by travelling in the hull with your troops so you learn the ropes and see what real soldiers encounter, before you take up the position of commander and get to direct the great machine from the hatch. You'll have the chance to get dropped off at the observation bunker in the centre of the course where you can take some pictures of the stag and comrades as they take these vehicles to their limits in an adrenalin pumping, bone-shaking adventure.