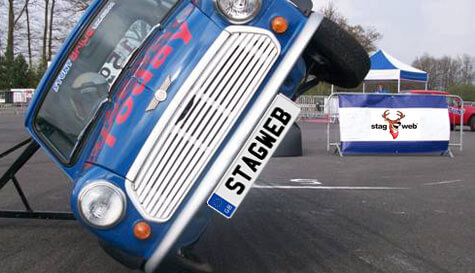 Have you ever secretly fancied yourself as a stunt driver? Think you have what it takes to push a car and physics to the limit as you test yourself in one of the most extreme driving challenges known to stag-kind? Our Birmingham extreme stunts really isn't for the fainthearted but it's a must for motor loving adrenaline junkies.

Just like the movies, you'll learn top driving skills used by professional stunt drivers that will soon make the day feel like your own private Top Gear adventure. With added hangovers (seriously guys, best to leave off the sauce a little the night before as you'll need all your wits, any stags over the limit may not be permitted to drive).

Your experienced instructor will show you and the lads to the cars including an Austin mini (just like in The Italian Job) a Mazda MX5 and a new BMW Mini which are all ideal cars in which to learn how to perform these epic car stunts for the first time.

You'll crack out 360 degree spins; some serious handbrake turns as well as performing some parallel parking manoeuvres that make your feats in the supermarket car park look like child's play. This is the real stunt driving experience; you'll learn extreme stunts that'll have you walking with a cool swagger well into the evening.

This is definitely one for a groom who loves his cars, it's fast, furious driving action that'll surely result in an amazing day out with the boys before you head back to the hotel (in your own cars, unfortunately) to get ready for that big night ahead.
You can finally stop watching all the crashes on Fast and Furious and telling yourself "I could do that." Now you can actually put yourself to the test, you really can do that. If you've got enough bottle and some sharp driving skills. So come on then big boy... We dare ya!