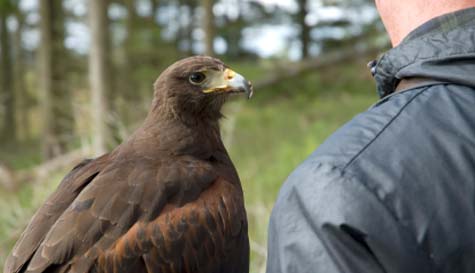 Man might have dominion over land, but these flying predators are the kings of the sky. Find out why on your big weekend with our stag party falconry activity. This isn't the type of thing you'd see on Countryfile on a Sunday evening. This is a hands-on experience that'll see you and the lads get up close and personal with natures equivalent to a squadron of fighter jets.
These birds are seriously stunning, and much bigger than you'd think. You'll see and work with a selection of different birds (please let us know if you have a particular favourite and we'll try to accommodate that in your day where possible).

This is your chance to handle and fly falcons, eagles, owls and even vultures depending on your location and availability, one thing you can be sure of, this is an incredible experience with trained working birds that are used for pest control as well as demonstration flying.

Our stag party falconry experience gives you the chance to call all these animals to the arm of a specialist falconry glove with lures and also food. You can also "zoom the groom" as the birds fly unnervingly close to land for food. Birds will also fly from glove to glove, swooping, circling and coming in when called. It really is quite a feeling to have one of natures most heightened hunters perched on your arm and looking you straight in the eye. First one to blink loses.

Stag party falconry is a great way to get outdoors on any stag do, and it's certain to thrill the lads as you learn more about these majestic, if not slightly terrifying aerial extreme predators.