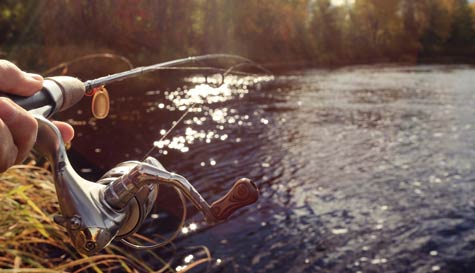 If you're a fan of fishing, but you fancy trying something a little different from the norm during your big weekend then fly fishing could be perfect for you. Instead of your traditional forms of bait, fly fishing demands you use an artificial fly that's cast-off over the water, producing some amazing fishing moments as fish can rise up out of the water to try and catch the fly.

Under the guidance of an experienced instructor our stag party fishing activity will give you and your stag party the perfect chance to learn this fantastic skill and become rod masters, plucking fish out the water with ease. Or tying yourself in knots, piercing your own ears and having the rest of the lads in stitches... or needing stitches.

Of course, this is a stag do, so it can't be all rest and relaxation. You'll compete in some friendly competition to discover who amongst you is a true master angler as you and the boys cast-off to try and discover who the ultimate fly-fishing champion really is.

However, be warned, our experienced instructors will always be on hand to help even the odds for less experienced stags. So even lads who have never touched a rod before will soon be casting off like seasoned pros.

Sure to inject a healthy dose of good fun and epic banter into any stag weekend, our stag party fly fishing activity is perfect for men who want to get out into the great outdoors, commune with nature and maybe give any tender heads some light relief after a big night out.