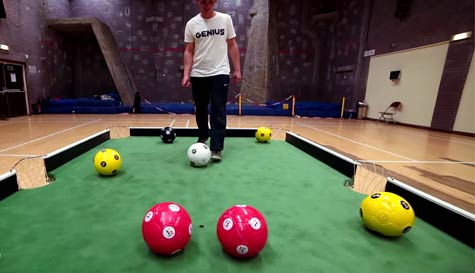 10 balls, 6 pockets, 4 players and a hushed crowd will gather around a 12ft x 8ft table in hushed tones for an example of extreme stag party sporting prowess. Of just to watch a group of slightly hungover blokes play the latest football hybrid. Badly.
FootPool is a combination of two of the world's greatest sports. The basic playing format of pool, using the style flair and technique of your footballing skills.
The rules are fairly simple;
Each team must pot all their coloured balls.
Just like pool, the colour is determined by whichever team pots a ball first.
Should a player pot the white ball or the white ball leave the table a free/penalty shot is awarded to their opponents.
Pot one of your opponent's balls and they receive a free/penalty shot.
Pot the black before potting your colours and you forfeit the game.
You can only strike the white ball with your foot.
The white ball must be stationary before it is played.
Once a team has potted all their coloured balls they can then attempt to pot the black.
The first team to pot the black wins.
Imagine a matchup of Big Break and Match of the Day down your local pub. All you need is John Virgo and Messi trading trick shots, while Jim Davidson and Alan Hansen argue over the match analysis and you're in business.
Its classic pub pool tournament fun with the added bonus of being able to use your footy skills, which none of the stags will have played before. Once the group has been split into teams you can then fight it out on the green baize in your own stag party FootPool mini-tournament. Add fancy dress and a prize or trophy for the winning team and you've got a hilarious stag activity with plenty of banter, insults and superb competitive action.