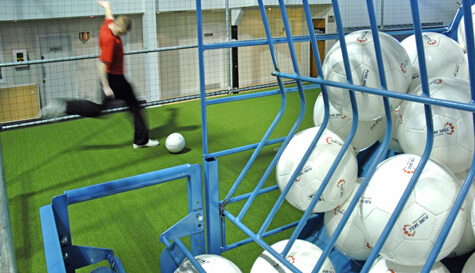 After some brilliant craic on your Galway stag do? Look no further than this terrific, competitive sports arena and our awesome ultimate sports challenge - where you'll get to tackle your fellow stags in 10 fantastic sports, battling to take the stag crown! Lock horns, stag vs. stag style, over a huge range of activities, from rugby and tennis to Gaelic free kicks and golf chipping, and crown a stag champion at the end!

Our ultimate sports challenge will see you and the boys take part in 10 sports in a 20,000 square foot indoor automated arena where the lads will complete a scorecard out of 100 points. You'll all get to try each sport, which include baseball, cricket, basketball, rugby conversions, Gaelic free kicks, golf putting, golf chipping, tennis, hurling and football penalties. A fantastic competitive stag experience, this is guaranteed to bond the lads (perfect for breaking the ice between any unfamiliar stags) and create the perfect platform for a truly memorable stag weekend!

Settle which stag is the ultimate athlete once and for all - and more importantly away from the PlayStations and copies of FIFA - by putting them all through their paces at our epic Galway ultimate sports challenge. They won't be able to wing it by playing their favoured sport either, as everything from their rugby grit to their golf finesse will be tested to its limit at this amazing Galway venue. So bring your A game and battle it out for the all-important stag do bragging rights.