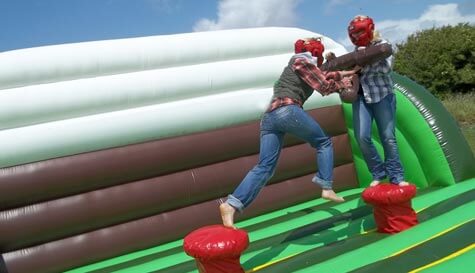 Remember the classic TV show hosted by that sexy Nordic minx, Ulrika Johnson & John "The Bash" Fashanu, starring an army of leotard-clad bodybuilders which we all pretended it was rubbish but actually liked quite a lot..? Well, now you can have your own Gladiators style challenge as you and your fellow stags face off in stag vs stag combat.

(lycra onesies, mankinis and leotards are optional but ill-advised)

It's up to you to choose between growling and parading like temperamental "Wolf" or to pose and flex like confident "Hunter" or just breathe and try to hide your doughnut ring-like "Homer". In a battle of skill, strength and wit you must fight your fellow stags to see who can come out on top as the ultimate champion.

Just like the TV show, you and the boys will go against one another in a series of nail-biting one-on-one fights which involve the two of your balancing on top of small podiums and battling with poles or sticks to do your utmost to knock the other off. It's a simple but brilliant battleground that worked for the Gladiators for 8 years and we can guarantee that it'll come up trumps for you and your mates! To really make the most of this activity, why not give everyone their very own contender name to compete with?

So get ready to flex those guns and hear that iconic call of 'Contender READY! Gladiator READY!' and prepare to fight.