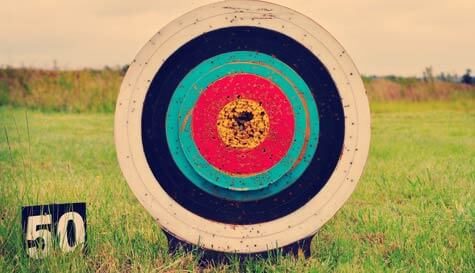 Arrows have been the deciding factor in many great battle sites over the centuries; Agincourt, Crecy, Hastings, Lakeside. And now you and your merry men can step up to the oche and prove you own sharpshooting skills. "Let's. Play. Darts!"

Our Glasgow archery site also offers a variety of motorsport activities like off-road karting and quad biking, to create a complete stag party sporting tournament.

After a safety briefing and coaching from the instructor to keep you all pointing in the right direction and help improve your accuracy (we don't want the groom to have to explain any new piercings to the bride-to-be) you'll have a few practise arrows and then it's game on. You can opt to either shoot individually or to increase the edge and banter between the lads split them into teams or pairs. You could also suggest a gentlemanly wager, or forfeits for the losers.

A prize will be awarded to the winning shot or team.

It is worth pointing out that these pieces of medieval weaponry really are potentially deadly. An English longbow was capable of shooting arrows that could pierce armour. Therefore as a safety precaution, our instructors won't be handing over any potentially lethal weapon to stags that arrive intoxicated or overtly suffering from the night before. As safety is paramount, any drunk stags might find they are prevented from taking part but may still be charged.

Archery QI
Despite being the first man to own a pair of purpose made football boots King Henry the VIII banned football as it was thought it was distracting men from the archery practice which they were required to do by law.