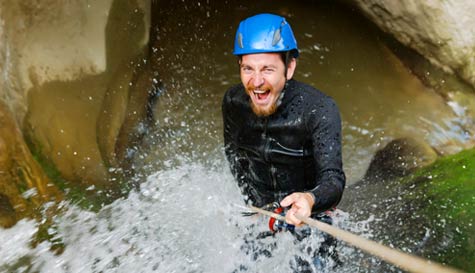 Our Glasgow canyoning adventure isn't just one of the most epic, adrenaline-pumping activities known to stag-kind (although it most definitely is), it also happens to be possibly the most extreme hangover cure in the world!

A brief description would be "Imagine Bear Grylls deciding to take a walk up a raging river using the river's sheer rock walls, canyons, whirlpools and waterfalls to navigate... Then imagine having to follow him." We think you get the picture. However, if there is any doubt at all we'd politely point out this is not for wimps. This is a full-on, fast-paced, white-knuckle, brown trouser extreme activity that definitely won't suit all groups and it's definitely not the place for the fainthearted.

You will quite literally be thrown in at the deep end (with the rest of the stags jumping in after you) and while the instructor is there to keep you all afloat the activity requires good core and upper body strength as well as a decent level of fitness. But adventure-loving stags will get an absolute buzz from an activity that is absolutely awesome and ranks among our top 10 adventure activities.

In this extreme outdoor activity, you and the boys will be scrambling over rocks, jumping into plunge pools, swimming through whirlpools, negotiating waterfalls and more. By the end of the session not only will you have built up a decent thirst but you'll definitely have earned the evening's pints.

So if you think your fellow stags are tough enough and up to the ultimate Glasgow stag do challenge get them signed up and prepare for one major mission.