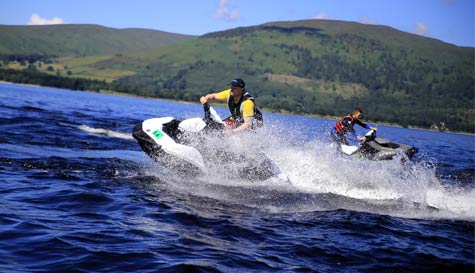 If you're looking for extreme Glasgow stag do adventure then get suited and booted and head out on the water on one of the UK's most famous waterways.
No experience or jacket required, once you arrive you'll be met by the friendly team of expert instructors. They'll help you get suited and booted with wetsuits, gloves, boots and life jackets. Once you've got your kit on for the lads it's time to take to the water. You'll be given safety instruction and shown how to ride the jet skis. Once formalities are out the way and the instructors are happy that none of you are a danger to yourselves or the rest of the party it's time to get wet and wild.
You'll hit the water at a suitably tranquil pace until everyone has got the hang of things, then gradually open it up and speed across the loch. While it doesn't have its own Nessie (at least there's been no confirmed sightings, yet...) the water can get choppy making for some quite testing driving, making it even more of a thrill ride.
Once you're all becoming masters of marine machines, the instructors will add in another element by teaching you stunts and tricks to perform on the jet skis.
The Loch itself is one of the most stunning waterways in the UK with some incredible wildlife in and around the water. This is a great chance to get out the Go-Pro and collect some amazing footage of the groom-to-be doing his best James Bond impersonation. Complete with Connery accent.
Loch Lomond - Pub Trivia
The loch has 92,805,000,000 cubic feet of water.
One of the loch's islands is home to a nudist colony (but it must get a bit nippy!).
Illegal whisky stills hidden on the loch's islands were believed to have been producing around 100 gallons of whisky a day at one point.