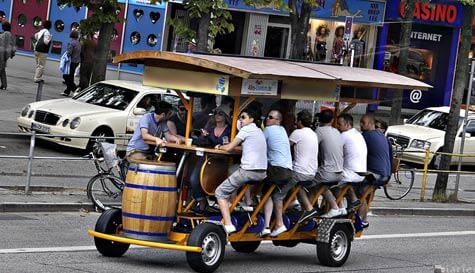 Surely there is no better way to get out and about on your Hamburg stag do than on the back of our fantastic 16 seater beer bike. Stocked with 20 litres of fine German beer, you and the guys will meet your (sober) driver before you hop on board and get pedalling. Your driver will pick the route and keep you all pointing in the right direction so all you have to do is pedal… and enjoy a few nice refreshing beers.

The bike will, of course, be exclusive to your group and has 16 seats with space for 10 guys to pedal, working up a thirst, whilst the other 6 sit back and take it easy. There will be plenty of opportunities to swap the guys at the pedals so everyone gets a fair crack at it, and with 20 litres of cold crisp German beer on board, no one is likely to go thirsty during your 2-hour ride. If you have more than 16 guys in the group then fear not, we have multiple bikes available so even the largest of groups can enjoy this top Hamburg beer bike.

The Maths:
2 hours + 20 pedals + 16 seats + 20 litres of beer = An unforgettable activity!
Please Note:
Due to recent local law changes, no beer bikes are allowed in the city centre anymore. The activity is still great fun, there's still plenty of booze to be had but the activity takes place well away from the city centre.