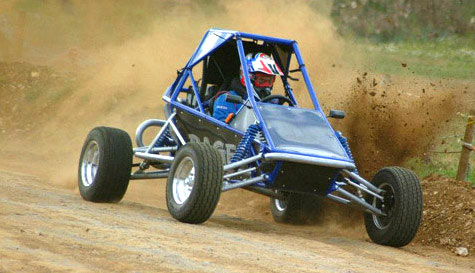 Our Harrogate off road karting venue takes an already sure fire stag party winner and takes it out in the mud and dirt for a change of scenery: it's epic, it's dirty and it's a whole lot of fun.

With these monstrous 260cc off road karts you'll be tearing up the track and kicking up dust plumes that'll be visible for miles. It's a bit different from your standard karting day: dirt and gravel isn't quite as grippy as pristine tarmac, and you won't get much air time in a go kart. The rear wheel drive will make cornering tricky for novices, but once you've mastered the controls you'll be throwing yourself into every twist and turn with precision.

With relay racing for the first part of the session, you'll take it in turns racing and navigating as your partnership try to emerge victorious in fierce wheel to wheel heats. The final part of the session will emulate "The Stig's" antics, with each stag attempting to get the best lap time possible. The prize for the winner is too good to be missed: not only do you get a podium finish, you get bragging rights to last you the rest of the stag party.