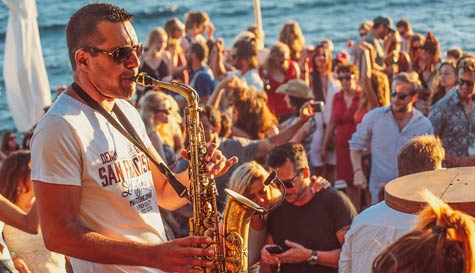 Some stag nights are 'good', some are 'great' but the simple fact is, when it comes to organising a stag weekend you should never settle for anything less than 'legendary'.
Welcome Hula Hula! A staggeringly good open-air beach club
This outrageous party venue is the kind of venue stag parties were invented for. Yeah, your mates getting married, final farewell yadda yadda yadda, the biggest weekend of his life etc. Forget all that! This has the potential to be the best night of clubbing any of you will ever remember. And we do urge you to keep your faculties, take those drinks slowly and drink in this amazing club which is simply awesome.
Packed full of the kind of eye candy that would make FHM's Most Wanted look like dinner ladies, this venue has it all, top tunes, guest DJ's superb sound system, dancing on the sand, head-banging cocktails, a great restaurant (Try the Bubba Gump, it's superb). In fact, if you can't have a good time here then you need to check your pulse, you're probably dead.
The game plan is simple, arrive on time looking sharp. You'll be greeted and shown to your reserved table. A bottle of chilled vodie will be waiting for you to wet the groom's head (although it's much better on the tongue), you can then set up a few shots or man-cocktails well doing what comes naturally. Dancing barefoot on the sand is a must (we actually shuddered when we heard there are grown men out there that haven't done that before, don't be one of those guys) and with guest DJs and live acts, there is plenty to keep you moving.
Please note: There is a minimum spend of €100 per person (Based on a group of 10).