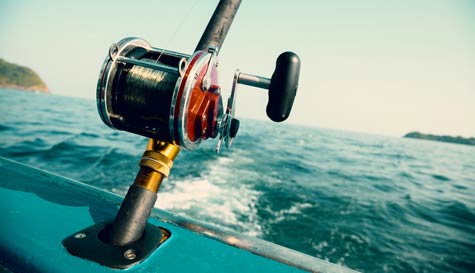 Our Ibiza deep sea fishing is the ultimate experience for lads looking to go big with their fishing. Unlike anything you might find in the UK, this deep sea fishing trip will see you cruise around the west coast to see some of the best views that Ibiza has to offer that would be completely unavailable if you stayed with the landlubbers! You'll visit a few locations during the day and drop anchor at secluded coves and white sand beaches where your fishing expert and captain will teach you the best ways to catch the treasures of the Mediterranean seas with some incredible catches you can't land in British waters.

You'll angle after Dorada, Barracuda and Tuna and anything else that takes the bait as you and the lads take on the ultimate fishing challenge to discover just who is a stag fishing champion and who should really still be angling after a bit of trout in their local stream at home. Sit back, crack open a couple of bevvies and get ready to relax as you sail along a deep blue sea on an exotic Mediterranean adventure that wouldn't look out of place in a Bond movie.

Our deep sea fishing in Ibiza is one of the most epic fishing experiences available, you're never certain to catch anything as the groups fishing skills and tides will play a part but here above all else, you're certain to find big laughs and adventure as you breeze along Ibiza's awesome coastline. You can even visit the stunning island of Formentera during your trip.

Just make sure the groom doesn't end up sleeping with the fishes, facing the bride-to-be with that sort of news doesn't bear thinking about!