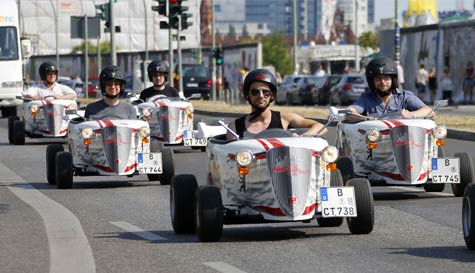 Some men like danger. Other men like to push themselves to their limits. But you? You ain't got time fo' that! You're all about maxin' and relaxin'. Which is why these awesome hot rods will fast become your new dream boys toy.
This one-hour experience will see an expert guide leading you and the guys on an incredible coastal tour of Ibiza. Yep, it's the coolest road trip ever. Plus, with smaller engines and a high speed of 88km/h there's no chance of these impressive landscapes being turned into a high-speed blur. Which is perhaps a timely reminder for the groom that sometimes, smaller is better.
The tour:
Start by cruising along San Antonio seafront
Then it's up into the hills
Where you'll enjoy stunning views of Santa Inés
Return to San Antonio
Take a selfie to remember your mighty machine by!
Our tour is a completely unique way to recon the area and get a new perspective of Ibiza away from the crowds, beaches, clubs and bars. Each stag will need a valid driving license before he's allowed behind the wheel and this activity has a zero-tolerance drink drive policy, so it's best to leave any stag forfeits until after you're done grand touring in these Mad Max meets Noddy style mean machines.
With spectacular views, expert guide and of course, the awesome hot rods themselves, this is just about the most fun you can have with your helmet on!