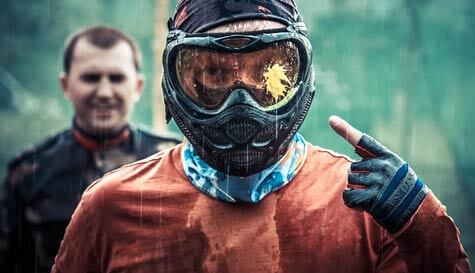 Paintballing is an enormously popular stag party activity for one good reason: it's epic! Get together with your mates and channel your inner Rambos and McClanes, darting between cover and shooting from the hip in non-stop stag warfare. You can band together to clinch victory or go it alone, flanking the opposition and pelting them from behind enemy lines, painting them from their heads down to their toes.

You'll also be kitted out in some of the best gear around to make sure that all your fellow stags have left to do is aim and pull the trigger. With semi-automatic paintball guns that use the latest compressed air systems for pinpoint accuracy, you'll all be sharpshooters in no time.

There'll be some special treatment for the groom: a hi-viz jacket (assure him it's for his own safety ... we wouldn't want to lose the groom when it all kicks off now, would we?) or some bright pink Y-fronts to wear as an outer layer that'll make sure everybody knows who to aim for.

This being Ibiza, you'll even have free reign of our Ibiza stag party paintballing centre's swimming pool and chill out lounge to cool off and get yourselves with a bit of down time before heading out for a big night on the town.