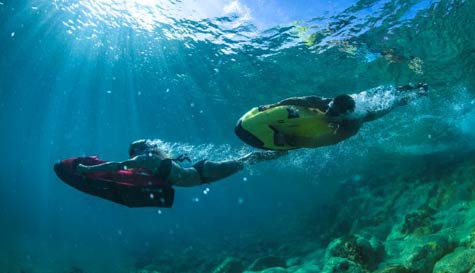 This really is James Bond stuff. The coolest water transport ever invented. Jet skis? Yeah, alright mate! You sit on top of the water, stuck up there, above the waves, if that's what floats your boat. But not for us thanks, we want more adventure, we want bigger challenges. We need Seabobs.
For those of you who've been living under a deep-sea rock, a Seabob if the coolest, luxury water craft that is currently hottest property in the world of water sports. These submersible machines take you under the waves, gliding through the water like a fish.
The 6 gear Seabobs have a propulsive force of 680 newtons, so they really can motor through the water. The electronic jet powered system uses Porsche software to really get the maximum out of every aspect of the design. It's the ultimate boys toy and you guys can be kings of the deep.
Ibiza has stunningly clear, warm waters which you can fully explore with the help of the Seabobs. The manoeuvrability is amazing, allowing you to twist, turn and glide through the water like seals. You hold on to two handles, either side of the body which control everything, including gears, speed and turning. You can use your body to increase turn speed, while the sleek design allows you to really cut through Ibiza's normally hidden underwater world. You'll be like the Little Mermaid (but hairier and with hangovers).
This is something the guys are unlikely to have done before, giving you a totally original stag do experience for the groom and all his guests.