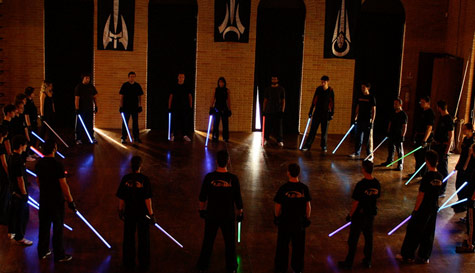 Unfortunately, due to interference from the Empire, we're currently unable to take bookings for the Lightsaber School, but we've got a crack team of Wookies on the case and we'll hopefully have you ready to fight the dark side in no time!
It's arguably the greatest movie franchise of all time, it was certainly the root of so many childhood games, with boys in brown dressing gowns (with the hoods up Obi-Wan style) battling the forces of evil with nothing but a coat hanger for a lightsabre.
And now, with StagWeb, big kids and sci-fi fans get to go back to their youths and learn how to wield a lightsabre just like Luke with our Stag Party Jedi Training.
Your stag party will become a 'clan' on a learning path instructed by a Master. You'll be using training lightsabres rather than the real deal for safety reasons. It would be a touch 'awks' taking the groom home missing a hand because one of the lads got a bit casual during a training session and trying to convince the angry bride-to-be that he looks more like a real 'Skywalker' now. Courses are available in distant star systems across the UK plus Dublin, Rome and Madrid.
The session will start with a quick briefing and introduction to the sport of lightsabre combat, and yes, it is an international sport with competitions taking place across Europe. It's then time for a quick warm-up to make sure all the guys are fighting fit and ready to go. The 'master' will then teach the group the competitive fighting techniques that could help you win the day and also save your planet from the Darkside. You'll end the session using your new skills to see which of the stags will be sky-walking and who should stick to daisy-cutting in the fantastic combat arena.
The best fighter on the day will be announced as 'Stag Party Jedi Training Champion' and having tried the sport once you could always try it again... Stag Wars Episode VI Return of the Stags.