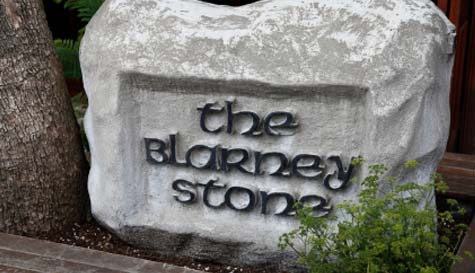 The legendary Blarney Stone - If you're anywhere in the region, you honestly can't afford not to make at least a quick pilgrimage to this Irish landmark. Throughout history, the Blarney Stone is believed to have unknotted the tongue-tied, relieved stammers and straightened up splutterers.
When your stag party kiss the blarney stone you too might discover just how this piece of Irish history can bestow eloquence and clarity upon any poor afflicted mumblers. And whilst puckering up to a rock might not sound like the stag do activity that you dreamed of, making the quick journey to Blarney Castle might well be worth it.

The gift of the gab is always useful for impressing the ladies, sucking up to your boss and getting out of trouble with the missus. But for the groom and the best man, it's now more essential than ever to make the trip. With wedding speeches coming up for both of you, it might be handy to have some kind of supernatural speaking powers to wow the stags friends and family with!

So if you're looking for a way to get stuck into the weirder and wonderful side of Irish culture, this is a hilarious way to do it. You and the boys are sure to have big laughs as you do your best limbo down to try and kiss the Blarney Stone.

You'll more likely end up conceding that the only way to do it will be to have another stag hold you to stop you falling through the battlements!