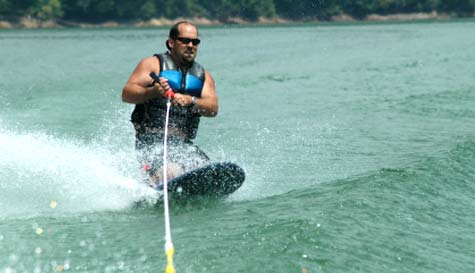 If you and the lads are looking for the most unique coastal chaos you can possibly find, kneeboarding is definitely the thing for you. This is awesome, white knuckle fun that will probably be a new and different challenge for all the stags. And with married life looming the groom should probably get used to spending more time down on his knees.
This is a really cool sport, the smaller and easier brother of wakeboards and water skiing, you don't have two skis to control and you're much closer to the water when you do fall. That lower centre of gravity makes this a great starter sport for any stags that have always fancied themselves as surfer dudes but haven't yet got the shaggy blonde hair. The rest is the same, a tow rope and a speedboat will be at the whim of the driver who will ease you guys into a false sense of security and help you find your feet before cranking up the speed. The session will be tailored to suit your group's ability (or lack of?).
The boards themselves are lightweight, and actually surprisingly easy to control, even for first-timers. That doesn't mean there won't be a few spills and thrills and you can be sure some of your party will be hitting the wet stuff face first ("Please let it be the groom!!!"), you just need to make sure you capture the groom's worst fall and get it uploaded onto YouTube as quickly as possible. "It's what he would've wanted."
This is definitely easy to learn, but difficult to master. Once you get over the hurdle of simply holding on for dear life, you'll soon realise you can actually pull off some neat tricks on these unique boards. Don't worry though; it's still very much the norm to spend more time in the water than upright on your board!