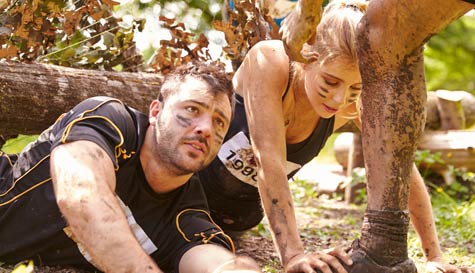 Forget those hangovers, our Leeds stag party assault course will soon put some colour back into the lad's faces... Or potential turn them into quivering wrecks, begging for mercy. Still, no pain no gain and all that!
This is an epic challenge for lads who love adventure and having a laugh in equal measure. There are 16 major obstacles to overcome including:
Swinging Logs
Parallel Ropes
Burma Bridge
Vines
Scramble Nets
See-saw
Wild Woosey
and more...
But just to really keep the guys on their toes we're added an extra element. Each of the lads will be served a pint ("Woohoo!") of water ("Doh!"), the challenge is to get around the course while spilling as little of your pint as possible. The stag with the most water in his glass at the end of the course will be the winner. So finally years of trying to get your full pint back from the bar across a crowded pub without spilling any will come in handy.
You can add even more epic challenges to your day at this stunning site, just ask our team for more details:
You can build a massive day of stag challenges and maybe see one of the lads come a cropper (and upload it for instant YouTube fame!). But to really test their mettle take on the massive assault course, it's a case of mind over matter... and depending on the hangovers, breakfast over bushes.
The site is stunning (so please don't decorate it with your fry up) and the friendly instructors are on hand to keep everybody safe and ensure you have the best time possible. May the best man (or one of the other stags) win!