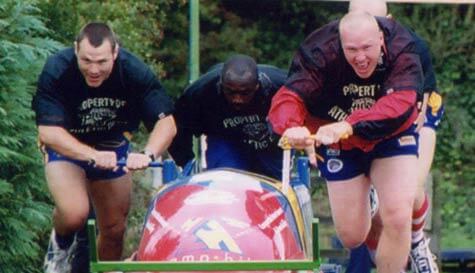 You've seen Fast and Furious well now it's time to get Slow and Senseless. Our Leeds stag party bobsleigh challenge is a brilliant sporting competition to test the guy's strength, speed, coordination and teamwork.
Sheer brute strength counts for nothing in this surprisingly technical challenge. You'll be split into teams and then shown the ropes of how to complete the best bobsleigh start. The race is purely to get the bob moving across the start line as fast as possible, with all the team safely inside. And believe us, that is a lot easier than it sounds.
And this isn't any old track, our Leeds stag party bobsleigh track is used by the British Winter Olympic team for training. This is a really unusual and unique stag party activity and something the stags can try in a handful of sites in the UK.
The amazing site has a very welcome café and is surrounded by some stunning countryside. You can also build a complete day of stag weekend madness with 14 different activities to choose from. Please contact our team for more details about competing in any of the following:
And there's no excuse for feeling like fish out of water, if John Candy and the Jamaican bobsleigh team can do it then so can you. While it might not be Cool Runnings you'll definitely have a banter-fuelled competition between all the stags to find which team has the best coordination and team communication which really are key to taking gold.