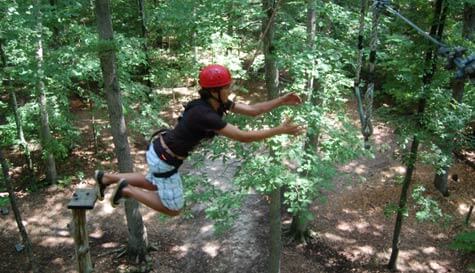 Adventure loving stags with love this adrenaline pumping, white knuckle leap into the unknown. Our Leeds stag party leap of faith is the ultimate test to separate the stags from the boys.
You'll start with a quick safety briefing before getting kitted up in safety harnesses. Stop for a quick team group selfie before deciding who should go first (we'd vote for the groom). It's then just the small matter of climbing the 35ft telegraph pole. At the top you'll find a 1ft sq platform, you'll also find that owing to the extreme height the platform does sway in the wind.

If you manage to climb to the summit and if you manage to pull yourself to a standing position on the tiny platform then the last task is to make the massive leap of faith to hit a suspended buoy and hope that your safety harness, holds and that your fellow stag don't let you fall as they'll be the ones holding the safety lines ensuring you don't come falling to the ground to leave a stag shaped whole in the forest.
This is a massive test of nerve, character and your breakfast which you really don't want to make a special guest reappearance while halfway up the pole. Although that hope will be even stronger for those stags holding the safety lines below you.
To make the day truly epic you can create a full day of multi activities including:
Please ask our team for more details to build even more great challenges alongside your Leeds stag party leap of faith.