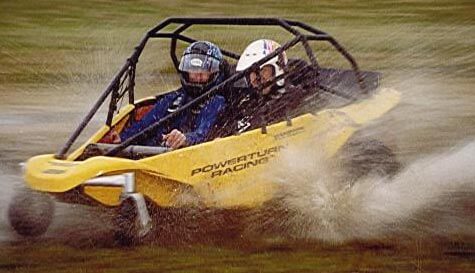 Think you're a pretty slick driver? All that's about to change with our hilarious Leeds stag party Powerturns. If you've never seen one of these crazy beasts before here's the lowdown;
6 wheels
2 balloon back wheels
2 bicycle front wheels
2 200cc Honda engines
I roll cage
2 hapless drivers
And that's the essential trick, while these feisty little machines can really move (each Powerturn is fitted with a roll cage to keep you safe but please try to keep them shiny side up at all times) it's controlling them that's the issue as you won't be doing it alone. Powerturns have two controls and need to pilots, that means you will have control of left turns while you're fellow stag/pilot has control of right turns. And just to make it even more fun Powerturns can pull wheelies so take off at speed you the nose shoots into the air, great for victory laps, hilarious for sharp corners!
You might think you and your friend are totally in tune and a sure to walk it but just wait and see how many smart teams are soon bickering like teenage girls as they fight to negotiate the tight track in the fastest time possible.
And if you want to add even more man madness to your day you can create a full package of massive stag challenges. Please ask our team for details on any of the following and may the best man (or any of the other stags) win!