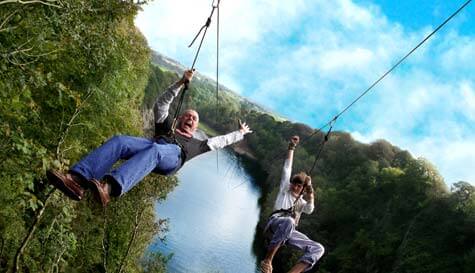 If you're looking for a serious stag challenge that will take the guys way out of their comfort zones then our stag party zip wire tick all the boxes as well as leaving a mark on your bucket list (and possibly some of the guys Calvin Kleins!). This really is NOT your average stag activity or even your usual zip wire.
Firstly there's no easy way up if you want to fly the friendly skies down the epic 575ft line, first of all, you have to get there. That means scaling a 40ft climbing wall. Once at the summit you'll need to cross the skywalk before getting hooked on to the zip. It's then time to offer a silent prayer before taking the plunge and trying not to scream like a girl on the way down.
To keep the lads safe you'll be given a full safety briefing as well as being hooked up to safety lines before starting your ascent.
But the fun doesn't have to end there, you can build a complete day of epic stag challenges with a number of amazing activities to choose from:
To build a complete day please ask out team for more details.
The stunning site has more man challenges than you can throw a groom at and plenty of opportunity to see one of the lads come a cropper which (being the good mate you are) you can instantly capture on your phone and upload to YouTube, sentencing the fallen hero to a life of viral infamy.