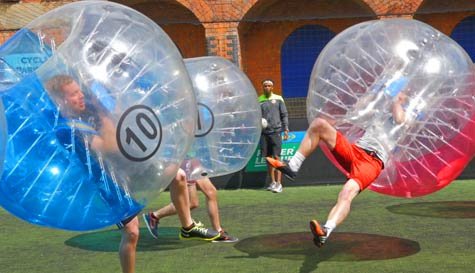 Limerick stag party bubble football might not be the most elegant sporting contest you ever take part in but it will definitely be the funniest!
Bubble football is exactly what is says on the label, football played in bubbles. Your legs and feet will be free to show off all your tekkers and fancy footwork while your upper bodies are encased in large inflatable bubbles. This means teams and players can totally barge, bash and bully their way to victory. So while you might think you can take on your opponents with your dazzling dribbling skills (Messi or messy?) the opposition might decide to just dump you into Row Z.
You're 'avin' a bubble! You certainly will be having a laugh. Watching your mate score a goal, running up to chest bump him and both bouncing off each other like inflatable wrecking balls.
"Well Gary, the lack of defending after the big centre forward scattered them like lightweight bowling pins was a travesty!"
Yep, it's football Gary but not as we know. It doesn't matter if all the team are the most naturally gifted footballers, the bubbles and resulting carnage are complete levellers and bloody hilarious!
There are a range of other games to add a bit more variety (and friendly, light-hearted extreme violence!) to the session;
Bulldog
Last Man Standing
Gauntlet
Quarterback
Goal
Bubble Bash
Sumo
The great game really is suitable for footballers of all types and abilities (even Arsenal fans!) and really will create a thunderous sporting competition that will have the tactical acumen of Harry Redknapp's bulldog but the bloodthirsty nature of a Game of Thrones kickabout. Yep, there really are no easy games in bubble football, just hard-hitting ones.