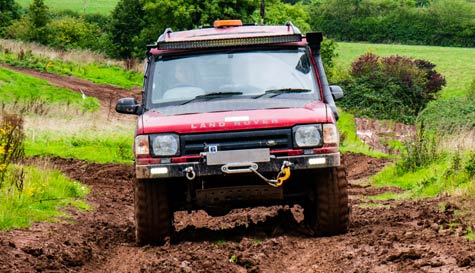 While yummy mummies might think that a 4x4 is for doing the school run and listening to Adele CD's here at StagWeb, we appreciate the full beauty of these off-road beasts. Go where no poxy hatchback car would ever dare venture in the ultimate Liverpool stag party 4x4 driving test. Forget 3 point turns and parallel parking, we'll be seeing if you can avoid parking it in a tree and keeping the top of the range 4x4 shiny side up.

These vehicles have been suped-up to make them even tougher, with the help of expert instructors you'll learn the basics in gear selection and how to judge the lay of the land. You'll then take on the full course as the instructor scores your run based on your driving skills. As well as the competitive element which will make it a hard-fought battle between the group, you also get the added bonus of being split into groups, with each group sitting in the same car during each run. That means you'll get a great backseat driver's view and a chance to aim plenty of banter at your mates while they're at their most vulnerable.

This activity lasts approximately 30 minutes and is best added as part of a multi-activity day of sporting stag challenges. You can set your own itinerary and leader board awarding points for the winners of each section of your day. And of course pint penalties for the losers.

4x4 driving really is an epic challenge for your Liverpool stag do, it's "man" driving and a great way to really put the lads to the test whilst getting behind the wheel of some seriously powerful pieces of machinery.