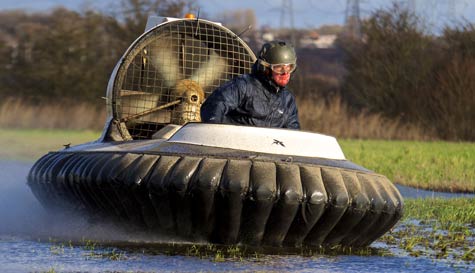 Patience is always rewarded in hovercrafting, so expect a ton of wipeouts and plenty of swearing as the lads try to balance speed and control while managing neither as they either veer off course or spin endlessly round in circles over the course of some practice laps; you'll definitely need them. At our Liverpool hovercrafting centre, racing is less about slick gear shifts and daredevil handbrake turns, and more about wrestling the craft through every corner, using your body weight and precision control to get epic results from your oversized hairdryer.

Reaching up to speeds of 40 miles per hour on a custom build course in a vehicle that is about as well behaved as Johnny Vegas at an all you can eat buffet. Yes there are controls in place but are they really any use once the madness descends?

Our Liverpool stag party hovercrafting facility comes packing some simply awesome 1000cc Flying Fish Hovercrafts that can reach speeds of up to 40mph, so it's a good thing you'll have some experienced guides on hand to show you how to get the most from these monsters without getting thrown out at the first corner.

Our centre has a custom built obstacle course for the lads to tackle that will test their driving credentials to the max while requiring all of their strength and wit to traverse at all. There's no traction control to keep you all on the track, which makes this one of the purest driving experiences available to stag kind.

Time trials will determine a worthy winner, who will earn bragging rights over his lesser stags.

Gentlemen... start your engines! Contact us today to get hovercrafting added to your Liverpool stag do.