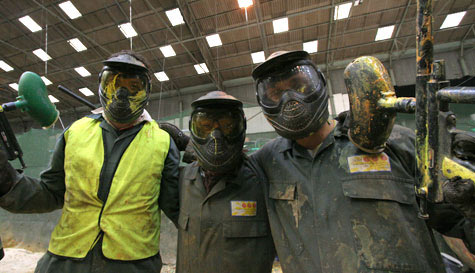 There's a reason why paintballing is one of the most popular stag do activities around: it's epic! And our Liverpool stag party indoor paintball venue is a testament to that. Based in an ex cinema that's been converted for indoor paint-spattered mayhem, this is one of the most unique venues for paintballing in the UK and is a bankable winner for any stag party.

Fed up with cowering in cover in some boggy, waterlogged ditch or slipping on mud as you make a heroic dash through enemy lines only to be pelted with high-velocity paintball bullets as you attempt to get up off your backside? Our Liverpool indoor paintball centre offers all the chaotic action of the sure-fire stag do classic without the frozen trigger fingers that come with all outdoor activities when the weather fails to turn up.

Setting paint warfare indoors cranks everything up to eleven: it's louder, it's closer, and it's more colourful. The venue offers free entry to one of Liverpool's best lap dancing clubs too, making this the perfect activity to do in the day before heading out for an evening on the town.

Those 200 free paintballs each should set you all up nicely for an intense start to proceedings as you dart around the old cinema making use of the converted facility's cover as well as purpose-built obstacles and structures in order to gain an advantage and emerge from the venue victorious.